What can a woman
Organiser: Women's organization "Rodnik"
10December
10December
What can a woman
Organiser: Women's organization "Rodnik"
Parking space Not available
Event registration
Share
Today, due to the workload of family and household chores women do not often unable to afford live chat among themselves. But the time spent with her friends and sisters in the faith outside the home allows them to not only distract from routine cases, but also to relax a bit and recharge our batteries.With this purpose, public organization "Rodnik" opens a new series of meetings for members of the fairer sex. The first is devoted to the theme "What can a woman." It will be held this Saturday, December 10, in the framework of Rabiul-Awwal — the month of birth of prophet Muhammad (pbuh).The program includes screening of videos about the role of the mother in the family, contests, games, coffee break and a nice chat.The event will take place in the club "ArtHouse" (Saratov, street B. Mountain 157, opposite the Economic University).Those wishing to participate in the meeting must be recorded in the "Spring" or by phone 7 (967) 503-49-92. The number of places is limited!
It couldn't be easier to nourish body and soul on the go
with HalalGuide app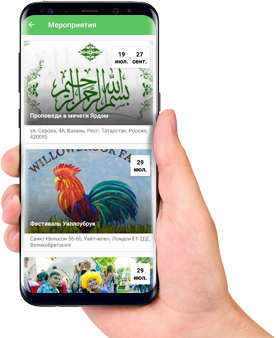 Thank you for your request! We'll email you with the confirmation if available!
Events sign up
What can a woman
Dec. 10, 2016
We will be in touch with you shortly.
Good