Customs and traditions in a Tatar family
Organiser: ДУМ СПБ
16January
16January
Customs and traditions in a Tatar family
Organiser: ДУМ СПБ
Parking space Not available
Event registration
Share
At the residence of the Spiritual administration of Muslims of St. Petersburg and Leningrad region will take place January 16 educational lecture on the theme: "Customs and traditions in Tatar family". The lecturer will be the Chairman of the Republican public organization of Tatar women "AK kalfak" city of Laishevo (Tatarstan) Gaucherie Burhanova Valiullina.Date and time: January 16 (Tuesday) at 15:00.Location: Saint Petersburg, Liteiny prospect, 46 (m. Pushkinskaya/Mayakovskaya)are Invited to attend.Admission is free!
It couldn't be easier to nourish body and soul on the go
with HalalGuide app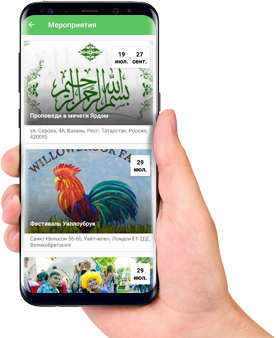 Thank you for your request! We'll email you with the confirmation if available!
Events sign up
Customs and traditions in a Tatar family
Jan. 16, 2018
We will be in touch with you shortly.
Good