#Ялюблюбаракат
Organiser: Mall Barakat
17December
17 December, all go to rest in TDC BARAKAT!!!The program of the day:DISPLAYING FAMILY COLLECTIONS from all brands of TDC, with the participation of the presenter of the channel ALIF.TV dinars Sadretdinova - MASTER CLASS on care and creating a natural makeup from a salon MASTER - CLASS tying a handkerchief from the company - FREE MEHENDI for shoppers - meet the BLOGGER Zaira Dzhavatkhanova - expert in personal effectiveness. Training on "Principles of family happiness." - ENTERTAINMENT for children, professional animators, puppet theatre, workshops, aquarium, treats, contests and gifts - men waiting for a quiz with prizes from the shop the WHOLE BLAGO, Darts, arm wrestling💪🏻------ At the end of the day you will:- RECEPTION - Cake - Cupcakes - Pizza rolls RAFFLE PODATKOWEGO FREE!
It couldn't be easier to nourish body and soul on the go
with HalalGuide app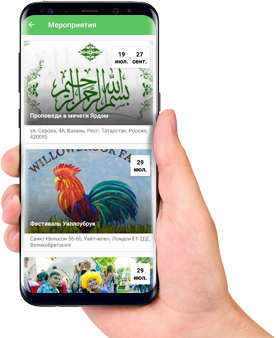 Thank you for your request! We'll email you with the confirmation if available!
Events sign up
#Ялюблюбаракат
Dec. 17, 2016
We will be in touch with you shortly.
Good