Best Libraries to Visit & Study in London
Oct. 29, 2018
That time of the year has truly returned. Students and freelancers and professors seeking the closest and comfiest libraries to make themselves a second home. They're free, spacious and convenient. Engulfed in walls of books and paintings, it's the perfect working environment! Homes can be extremely distracting with your warm bed ever so close to you ready to be dived in to forget the world and your piling responsibilities whereas, in the library, you're surrounded by students, trying to be studious and focused, just like you!
It's a shared experience, it's comforting seeing others trying to stay on top of their work along with you; you're not stressed alone.
London is secretly with them, and all types – big, historical, Harry Potter, mid evil ones to the small, modern and colorful types all scattered in the corners of the city.
To help you locate the best libraries to visit and study this year, we've compiled a list of the most magnificent libraries in London.
1. The British Library:
This library must always come first! The British Library is the national library of the United Kingdom and houses the largest collection of books, periodicals, journals and sound recordings in the world. Located in the center of the city and its collection consists of:
- 60,000,000 patents
- 13,950,000 books
- 8,000,000 stamps
- 6,000,000 sound recordings
- 4,347,505 maps
- 1,607,885 music scores
- 824,101 serial titles
- 351,116 manuscripts
- 260,000 journal titles
- 60 million newspapers
… and much more! The library is a regular haven for students. Facilities such as the cafeteria selling good food using organic and free-range products and 11 quiet reading rooms is a great motivation to spend your day wisely in the library. With free WiFi available and hundreds of desks open to all, it's undeniably one of the best libraries in the country!
96 Euston Rd, London NW1 2DB
2. National Art Library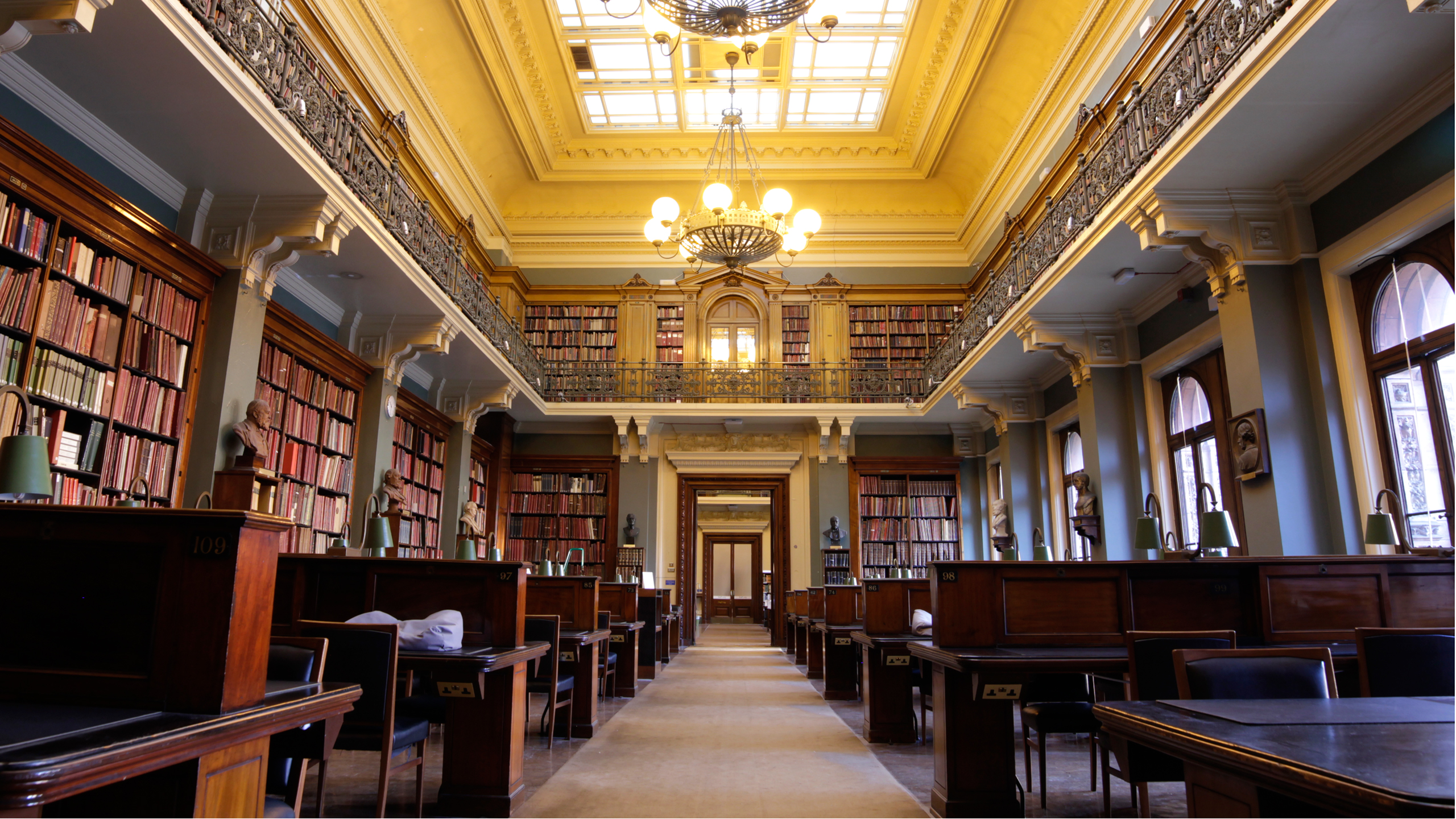 It should come as no surprise that the achingly stylish Victoria and Albert Museum houses a stunning library. Millions of visitors stream into the V&A each year, unaware that there is a small group of Londoners quietly studying, learning, reading, and writing above their heads.
This library is an ideal working spot! It's how you imagine every traditional library to be with immense sunlight filtering through the windows with the smell of books and classic, dark wooden workspaces fitting the glorious theme of the V&A museum – best way to put it – it's the library from the Beauty & the Beast, not a single bit different!
The collection of books is also impressive with genres ranging from hundreds of years of Vogue to copies of Shakespeare's – it's bountiful! It's the best art history library in the country so a warning: it gets packed during dissertation and exams seasons therefore, best to arrive early.
There is free WiFi available and computers available to use, and when you're bored, a whole museum to explore!
Cromwell Rd, Knightsbridge, London SW7 2RL
3. Maughan Library
Hands down one of the most aesthetic looking library in the world!
The Maughan Library, now the main research library for the Kings College London University, was constructed in 1851, but dates back to the 13th century.
Inside you can find a dodecagonal reading room inspired by that of the British Museum, and a former medieval chapel which is now used as an exhibition space for the library's special collections.
Unfortunately, the main area is only for students, but everyone else can visit the Weston room section which hosts special events and collections.
The Maughan Library is located at 100-113 Chancery Lane, London WC2A 1LR.
4. Guildhall Library
Beautiful. Vey beautiful.The Guildhall Library is the definitive resource for London history. It has 200,000 primary documents dating from the 15thto 21st century, including special collections dedicated to Samuel Pepys, John Wilkes and Thomas More.
The nature of the collections means that the Guildhall Library is a great place to conduct historical social research of London as well an invaluable research for plotting out your own family tree – Interesting!
Aldermanbury, London EC2V 7HH
5. The London Library
A place to get lost … in books! The narrow, book-lined corridors feature metal grilles underfoot, giving giddy browsers the opportunity to look down upon seven storeys of library space below. There are open spaces too, and big windows make this an apt place to work, study, or simply tuck yourself away for a few hours.
The narrow, book-lined corridors feature metal grilles underfoot, giving browsers the opportunity to look down upon seven storeys of library space below.
Moreover, don't miss the stunning Victorian Reading Room based at the heart of the library! It's a sight to see!
14 St James's Square, St. James's, London SW1Y 4LG
6. Senate House Library
Senate House is a bit of a Hollywood star. It's art deco interiors, impressive courtyard and exterior have featured in Batman Begins, The Dark Knight Rises, The Theory of Everything and Doctor Who. The University of London Library resides in Senate House, and stretches from the fourth to eighteenth floors of the building, although only storeys four to seven are open to the public. Walk through the entrance of Senate House and feel the waves of history wash over you. It holds around three million volumes, including 120,000 volumes printed before 1851. The leather sofa Reading Room is the most impressive space of all, perfect for curling up with a book.
Malet Street, London WC1E 7HU
7. Wellcome Library
The glorious new Reading Room here is unlike any other. Known as a major resource on the history of medicine, Wellcome Library is an innovative hybrid of gallery, library and events space, designed to encourage you to indulge your curiosity and explore more than ever before. Completely open to the public, it has over a thousand books and 100 objects available to browse and discover, including contemporary sculptures, paintings, medical artefacts and manuscripts.
It's light, bright, colourful and comfy creating a welcoming atmosphere, and unlike most libraries, chatting isn't snuffed out by library personnel, but encouraged with a gentle nod and 'it's fine to talk'. Possibly as far away from the hush-hush stuffy library stereotype as you can get.
183 Euston Rd, Kings Cross, London NW1 2BE
Назад в новости